Kevin Fitz-Henry
Kevin Fitz-Henry is a designer and artist that pairs bold graphics with experimental printing methods in a body of work that spans a variety of mediums.
What tools do you use for your practice?
I do all of my digital work on my Microsoft surface, and the main programs I use are Photoshop and Corel Draw. I started using Corel Draw because I was working in the sign industry for a while, and then it just stuck.
Everything I do starts with a sketch on paper, and then I scan it and start working away. I also like running my designs through different processes to acquire interesting textures. For example, I like printing things out on my thermal label printer and scanning it afterwards.
I recently started renting a studio space and I purchased some large format screen printing equipment. I'm experimenting with printing on different substrates; a few things I've printed on so far are plywood, aluminum, mesh, and fabric. These experiments are tests for future projects.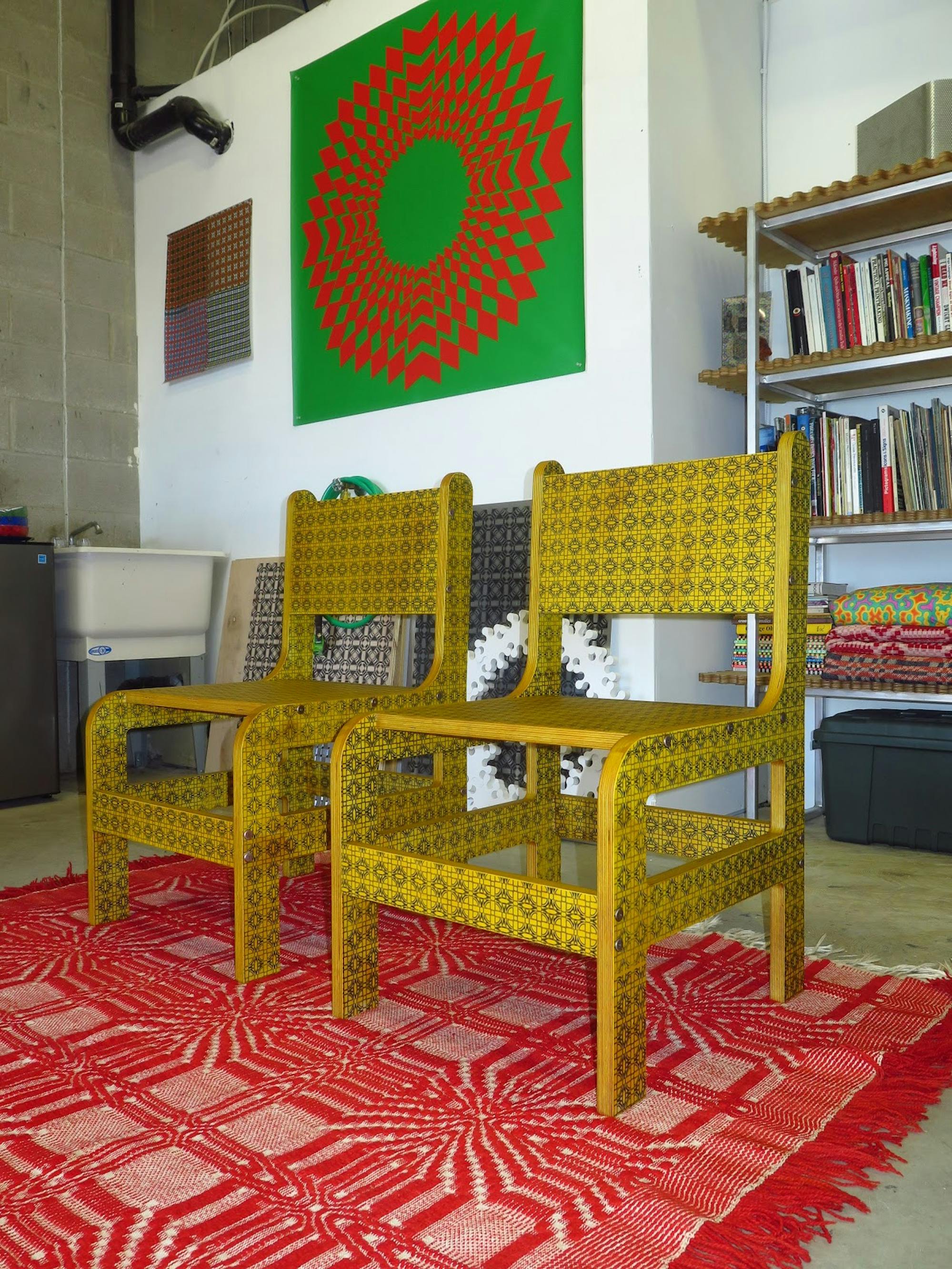 What's your daily schedule?
I wake up around 8:00AM to an espresso shot. I get ready and I try to make it to the studio for around 9-10:00AM. Once I get to the studio I take some time to set the tone for the day. I make some tea, listen to some music and go through some books. Once things are feeling good I'll get to work. I usually work until around 8:00PM.
How do you approach commercial vs personal projects?
Kevin Fitz-Henry
They tend to be quite different for me - personal projects are constant, but can be random and have uncertain timelines. Commercial projects are more regimented and I like to keep a solid schedule.
At the end of the day, success in a personal project comes down to whether I genuinely like it or not. That goal is the same in a commercial project, but ends up coming down to whether the client is happy or not.
How has your dad's sign painting career shown up in your work today?
Kevin Fitz-Henry
As a kid I think I absorbed a lot more than I realize. I grew up being surrounded with all types of signs, tools, and my dad who is a "do anything" type guy.
In terms of design, I think what really stuck with me from all of that is bold, simple graphics that convey a strong message.
It also created a strong desire to understand the process of how things are made. Understanding the process tends to be what really excites me.
What's your method for making custom type?
Kevin Fitz-Henry
I usually start by sketching on a piece of paper. I try to get my ideas out as freely as possible without thinking about it too hard. Once I'm happy with the direction, I'll scan it and begin manipulating it as a vector file.
How do you see yourself in the future?
I'm trying to transition into making my living from personal projects. I want to create things to sell at all different price points so that there is something for everybody. That is my main goal.
Where do you spend money and where do you make money?
Right now my main source of income is freelance design. I reinvest most of that money into my personal projects.
How many people do you consider a part of your practice?
I'd say about I work with around 10 people in total. I have a small handful of clients that I do design work for on a regular basis, I do the majority of that work solo. When I need a second opinion, I have a few close friends who I like to reach out to.
When I'm working on physical projects, I do a lot of the printing and fabricating myself. But If it's something I'm not able to do alone, my dad's sign shop (Signs Galore Inc.) has a lot of resources that I have access to. They often help me CNC, fabricate and print things.
What do you think is the most valuable asset for emerging designers?
Keep drawing. It will allow your ideas to flow freely. It is the most important step in the design process for me. Something else I try to do is design things that come from within. Trying to keep up with trends will become exhausting.
What are your thoughts on declining work?
Kevin Fitz-Henry
I think at a certain point in everyone's design career it's important to start to decline things that don't feel right. Be realistic about what you'll be getting out of the job. A check is not always worth the stress.
What is a prediction you have about your industry that others may not know or agree with?
AI will take a lot of designers jobs.
What's your favourite restaurant to order from?
My most frequently visited restaurant here is DNK pho. They know my order as soon as I walk in. Vegan pho, no tofu, vegetable spring rolls, and chillis on the side.