TIGHT
TIGHT is an online store and editorial platform focused on contemporary music and visual art. TIGHT is run by Maya Baklanova, Tanya Voytko, and Vitaliia Zhyriakova.
What tools do you use for your practice?
Vitaliia: Tight is a digital platform with an online store, so all possible aspects of work from communication to production are managed through dozens of digital tools. As a team whose members live in different countries, we rely on them to stay connected basically every day. Through almost 3 years of experimentation, we have found a good workflow that works for us, which can be summed up as "less is more".
We can distinguish a few essential tools for us:
Tight magazine is supported by Webflow. It is a powerful tool for building responsive websites. Webflow allows us to be flexible and have full control over tight web, which is a crucial point since we do not have a developer in our core team.
For communication, we use Telegram messenger, where we have set up a few chats that serve different needs: Chat to talk about current projects and merch, chat where we share interesting findings, budget chat, etc. For video calls, we use Google Hangouts.
Recently we moved all our structure to Notion and with their recent updates like the timeline feature, we will try to use it for project management as well. Are.na is an all times favorite place to store references and notes for various projects in one place.
What's your daily schedule?
Maya: Since we are working on the project on a distance, as well as managing in parallel our day jobs, we all do long hours. We have developed a system to synchronise, stay connected, and keep track of each other's tasks. For example, on Mondays we have a morning check-in, we share the list of completed tasks for the past week and plans for the upcoming week. Every Thursday we have an update call. We chat on Telegram in several groups: a chat for casual conversations, a work chat, a chat where we share finds.
Internet communication does not replace meetings in real life. Before the pandemic, we agreed to see each other at least every 2-3 months, in Kyiv, Stockholm or someplace out, for instance in Berlin. Covid-19 has changed our plans a little, and travel from Ukraine to Europe is not yet possible so we usually meet in Kyiv as the current regulations allow travellers to arrive in the country. 
What advice do you have for people who are interested in self-publishing?
TIGHT
Tanya: Digital media platform is a unique medium to explore your personal limits and scope of creativity. We founded Tight on the belief that we can make things different and that's the first step where everyone should start from - to define your intent and desired contribution to an already fulfilled media sphere. The most challenging part for us was to move away from the moulded view of what "successful media'' is about and build a project from scratch relying only on our personal intuition, interests, and opinion. So first of all don't be afraid to step off the beaten track. 
Secondly, be aware that the work you do doesn't end online, after clicking the «publish» button. Pay attention to the cultural ecosystem you belong to, nurture and support your community, seek the ways how you can encourage people irl. 
And the last, but not least thing is to consider each activity you do as an art practice. Think of your life, project, article as an art piece, don't be afraid to put things together in unexpected ways, and have a surprise. That's something we are still learning, but it makes the journey really exciting and full of discoveries. 
Do you have a consistent methodology when it comes to conducting an interview?
TIGHT
Maya: None of us have an education in journalism, we've learned how to interview, write and edit by ourselves through many trials and errors. Now it is funny to go through old publications, recollect our first interviews and our inexperience. Over time, we've developed an efficient methodology for ourselves. First of all, we do research, learn biographies, read and watch all existing materials, make important notes and save "key" quotes of the artist. Then define a topic and direction of the interview, prepare a list of questions. We use it as a backbone, but always try to build the conversation naturally. A very important rule that we always try to follow - to make every interview irl through a video call or personal meeting (already old school now:)) Sometimes we do it via email as well, but these are rare exceptions. 
In the beginning of the talk, we try to establish the connection with the artist and make it less formal. After the main job is done, we start working on the transcript. In the process of transferring the conversation to the doc, you always get an immediate understanding about the edit. So it's pretty easy to feel what has to be cut, edited, etc. 
There are many factors that define a successful interview, but the most important is to help a person to open up and navigate him naturally through the conversation. Also, to take care of the settings and avoid loud and crowded spaces, bad internet connection. For the 'Drinking with' feature, the main task is not to get drunk :)
How do you think the pandemic will impact art & music journalism?
TIGHT
The consequences are already in place: the editors are being fired, the budgets are being cut and therefore a preference for clickable publications over large deep features is increasing exponentially. This will greatly affect the quality of the articles, because journalists have to make a living rather than upgrade their skills via unpaid materials. In fact, music journalism will end up being niche and valid for a smaller group of people, such as print media.
Another significant change caused by the pandemic is a shift to video formats in online media and new forms of digital projects.
How does TIGHT use Webflow?
TIGHT
Vita: During the almost 3 years we have been running Tight, we have experimented with a few different methods to create articles and other interactive projects. For example, in the beginning we published a few online pieces using the Readymag platform, which is another great tool to build interactive sites, but we wanted to keep all projects in one place, so it did not work for us in the long run. Then we tried using the native Webflow animation builder for a few articles, but honestly that is pretty demanding work if you want to build something outstanding. So, in order to not limit ourselves within the tool, we started collaborating with creative developers on various projects. Over time, we crafted the preferred framework where developers are free to create projects in pure HTML, which we can later embed directly into the source code of Webflow. And since it usually takes a few iterations to edit a text, this way of working makes everyone much happier because designers or editors can make changes at any time.
How do you see yourself in the future?
Tanya: 
Unfortunately, in the current times long-term planning sounds like a huge privilege for us. The plans we made for 2020 have changed dramatically so we understood that now it's very important to have a certain malleability to fit into a fast-changing reality. 
But of course there is definitely something we are trying to work on step by step. In the foreseeable future, we'd love to level up Tight to a larger multidisciplinary project by maintaining editorial platform, clothing brand, special digital and offline activities. And the ultimate goal for the next few years is to expand our reach, income and team.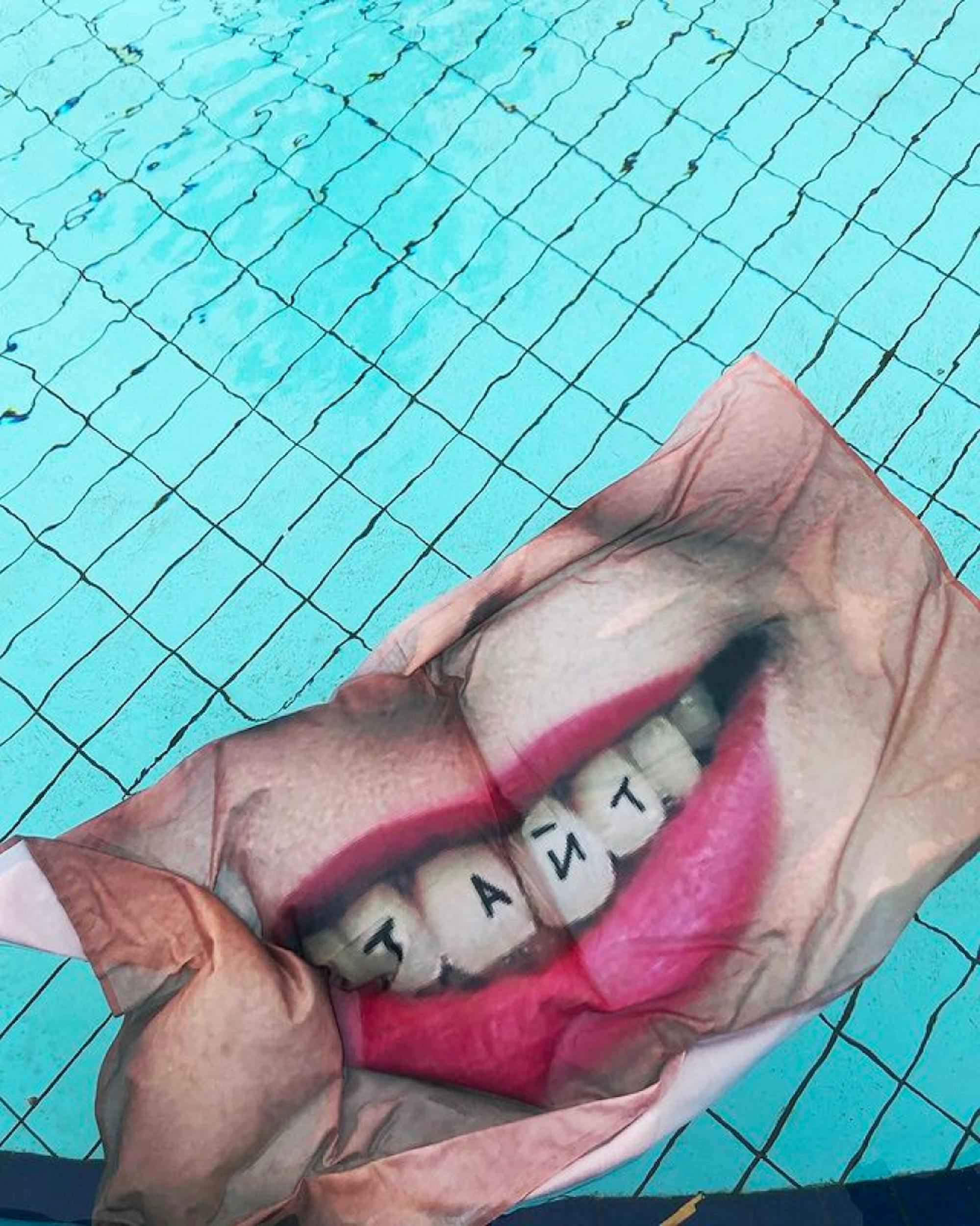 Where do you spend money and where do you make money?
Tanya: Right now, our main source of the income, which covers the basic costs of the project, is Tight Apparel. We also work with cultural fundings, gain some profit from guest-curatorship for festivals, music events and other initiatives, and work as creative consultants for various side projects.
As for spendings, everything is pretty simple. We use our small revenue to cover fees for freelance writers, our small team of translators, subscriptions (eg.: Webflow, Tilda, Soundcloud). Also we invest money to improve the quality of our clothing line - we always search for better production companies, fabrics, printing, make a lot of samples, etc. 
How many people do you consider a part of your practice?
Tanya: The core team of Tight consists of 3 people - us and 2 editors/translators Nikita and Yustyna, but of course the network of collaborators is all encompassing: we work with translators, freelance writers, graphic designers and visual artists, web developers, lawyers, contractors in clothing production. Furthermore, we think that the main ingredient of our ongoing practice is basically our community - readers, fellow artists, followers who all in all are very talented and inspiring people. We learn a lot from them, try to nurture and support. So it's one united organism that can not exist in parts.
What is a prediction you have about your industry that others may not know or agree with?
There are so many predictions and different scenarios. One thing we think about more and more often is that the format of long reads is a new luxury. Nowadays, it's a big privilege to spend time reading a long article while fast content is luring you in from every corner of the Internet. We tend to think that our industry, niche or whatever, is already old-school. So it's a big question how online media will sustain in the near future. The outcome could be both positive and negative, but it will definitely bring us to the point of no return.
What's your favourite restaurant to order from?
Tanya: That's probably the most difficult question. It's very individual and situational. We usually use Glovo delivery service in Kyiv to order food when we don't have time (or hungover). But the best scenario is to go to Hanh (Vietnamiesse place in Kyiv), take some tofu and noodles and head to our favorite park Peyzahnaya Alley to have after-work dinner outside. 
Maya: Ordering food is always a difficult task for me, I can spend a lot of time choosing an option that suits my mood in the delivery service. I can't pick favorites, but it's always great to order homemade food from different eateries. 
Vita: There is this amazing place around my house in Stockholm — Indian Lotus :) So, I got really hooked on their palak paneer. Last few months it's been my choice in 90% of situations. Best hangover food ever.